Serving customers in a 6 county area
At Sonoma Surgical Supply, service starts right here. Whether you're on our website, on the phone, in our store or receiving a visit from our professionals, we offer you the best possible service by the most knowledgeable and courteous professionals. As home medical equipment providers serving Sonoma, Marin, Napa, Lake, Solano and Mendocino counties, we will assist you in every step of your home medical product selection.
*Sonoma Surgical Supply rents medical equipment for short term use, vacations and guests. Please call us for more information.
Our services include:
Evaluation of client for specialized products
Evaluation of client's home or workplace for wheelchair accessibility
Professional fittings and product education
Rental of home medical equipment
Product and technology training for physicians and therapists
In-store health clinics on various health topics
24 hour emergency service
Much more, just ask!
Sonoma Surgical Supply also provides services including CPR and first aid trainings, OSHA safety evaluation and forklift certification. Plus, we offer on-site First Aid cabinet refilling for business and industry.
We are a Medicare provider, and will coordinate insurance billing for covered items. Please contact us for more insurance and coverage information.
*Sonoma Surgical Supply rents medical equipment for short term use, vacations and guests.
If you have questions, you may contact us by email or call us at 707-539-5151.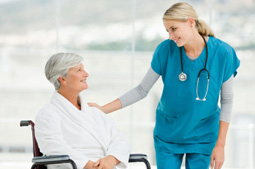 What We Offer
Sonoma Surgical Supply in Santa Rosa has been providing the people of the North Bay with home health care equipment, orthopedic supplies and wound care products since 1958. Find out more about what we offer by clicking below.
Product Catalog
Browse wound care, wheelchairs and walkers, compression therapy, bathroom safety equipment and more!